Hours, Location, and Parking
Hours of Operations
Today's Hours
Medical Clinic | Pharmacy
Closed
Today's Hours
Counseling & Psychological Services
Closed
All services are closed on Saturdays & Sundays, university holidays, and university closures.
Location and Parking
Cougar Health Services is located in the Washington Building on NE Washington St. We are across the street from the Spark building. Find us on Google Maps.
The entrance you should use depends on the service or program you're visiting us for. You can find the correct entrance on the map below. If you're attending a workshop or are looking for Violence Prevention Programs, make sure to enter through the Health Promotion door on the southeast side of the building, facing the residence halls and Stadium Way.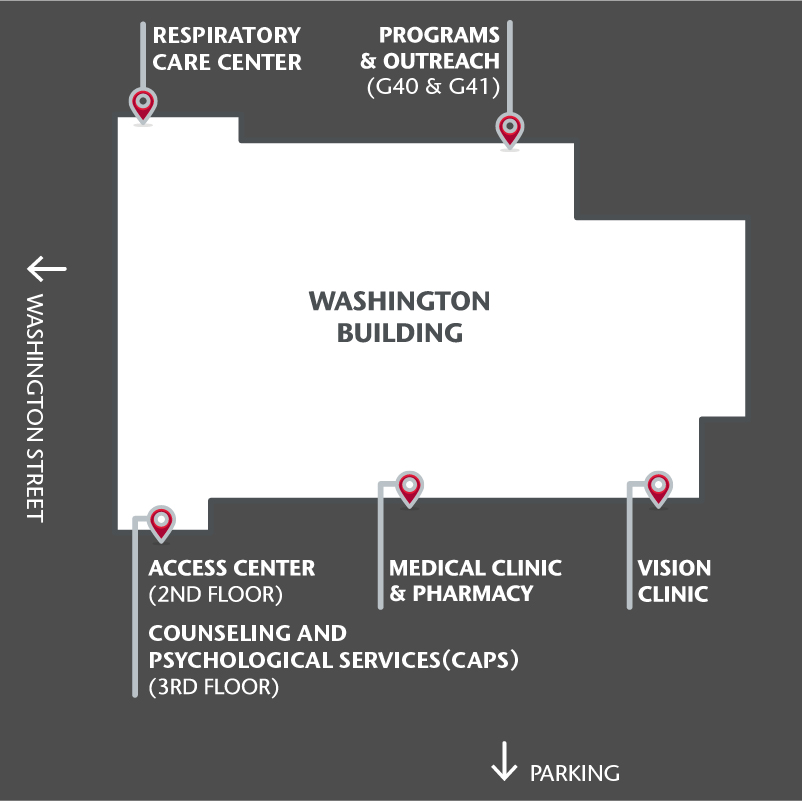 Take a Tour
Parking
Students accessing Washington Building services (Cougar Health Services and the Access Center) can use the Washington Building west parking lot, located off Washington Street.
The first 20 minutes of parking are provided at no cost. Appointments to pick up prescriptions at the pharmacy or vision clinic can often be completed within 20 minutes.
For appointments lasting more than the allotted 20 minutes, students need to prepay ($2 per hour) at the self-service kiosk. Accepted forms of payment include cash or credit card (VISA, Mastercard, American Express). Parking permits are not applicable to this lot.
The Washington Building west parking lot is limited (22 spots) and is reserved for Washington Building patrons. Reasonable enforcement measures will be applied to preserve the parking lot for the exclusive use of students utilizing the building.
Metered parking and zone parking lots are also available nearby, and our building is easily accessible via public transit. Cougar Accessibility Transportation Services (CATS)is also available to students with permanent or temporary mobility disability/conditions.
For more information on parking and transit options, visit Transportation Services.