Monkeypox
WSU Environmental Health & Safety is monitoring the monkeypox outbreak and public health crisis. The Centers for Disease Control and Prevention (CDC), the Washington State Department of Health, and local health departments are tracking an outbreak of monkeypox in the United States. 
If You Have a New or Unexplained Rash or Other Symptoms...
Call Cougar Health Services at 509-335-3575 to schedule an appointment with a healthcare provider. 

 

Avoid close contact, including sex or being intimate with anyone, until you have been checked out by a healthcare provider.

 

Wear a mask when you see a healthcare provider.

 
CHS services related to monkeypox
Testing
Cougar Health Services offers testing for monkeypox. The standard turnaround time for results is an estimated 2-3 business days.  Call Cougar Health Services at 509-335-3575 to schedule an appointment.  
Treatment
Cougar Health Services can help to identify a proper course of treatment, including but not limited to consultation on how to reduce the spread, cover rashes, and working with Whitman County Public Health to advocate access to the vaccine as local and state supplies allow.
Vaccines
Monkeypox vaccine may help prevent disease or make it less severe.
It can take up to three weeks after being exposed to the virus before symptoms begin.
CDC recommends that the vaccine be given within 4 days from the date of exposure for the best chance to prevent monkeypox. Vaccine can still be helpful within a couple of weeks of exposure at reducing the severity of symptoms but may not prevent onset of disease.
Read the CDC's Vaccine Information Statement, "Smallpox/Monkeypox Vaccine (JYNNEOS™): What You Need to Know" (PDF)
Current Vaccine Availability 
Call Cougar Health Services at 509-335-3575 to schedule an appointment.  
Due to a surplus of vaccine at Cougar Health Services, the following populations are included to reduce waste of vaccine:
All individuals who have had multiple or anonymous sex partners in the last 3 months.
Healthcare and public health workers who provide direct care to individuals with syphilis or other STIs.
---
If vaccine availability becomes limited, we will limit appoints to those who meet the following criteria register for a vaccine appointment:
Gay, bisexual, or other person born male who has had sexual contact with another person born male, or trans or non-cisgender people (regardless of sex at birth) who have sex with people who identify as gay, bi, or otherwise MSM in the past 3 months AND
At least one of the following risk criteria*:
Multiple or anonymous sex partners in the last 3 months
History of early syphilis or gonorrhea in the prior year
Methamphetamine use in the last 3 months
Attendance at a bathhouse, public sex venue, or group sex (sex including >3 people at the same time) in the last 3 months
Being houseless/unstably housed (including living in a shelter, car, or congregate setting; living with friends or relatives; couch surfing) in the last 3 months
Being incarcerated currently or in the last 3 months
Exchanging sex for money, drugs, or other purposes in the last 3 months
Black, Hispanic/Latino, Native Hawaiian and Other Pacific Islander (NHOPI), Asian, Indigenous, or American Indian/Alaska Native
These criteria may change in the future as vaccine availability fluctuates or as we learn more about populations at risk for monkeypox virus infection.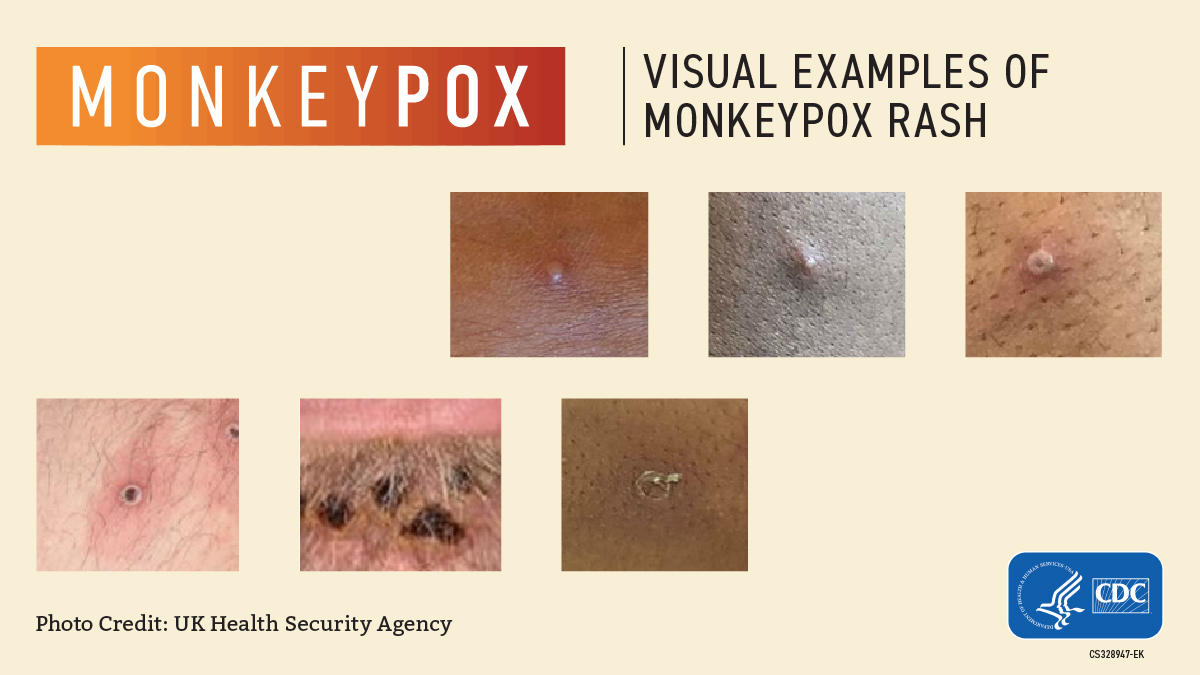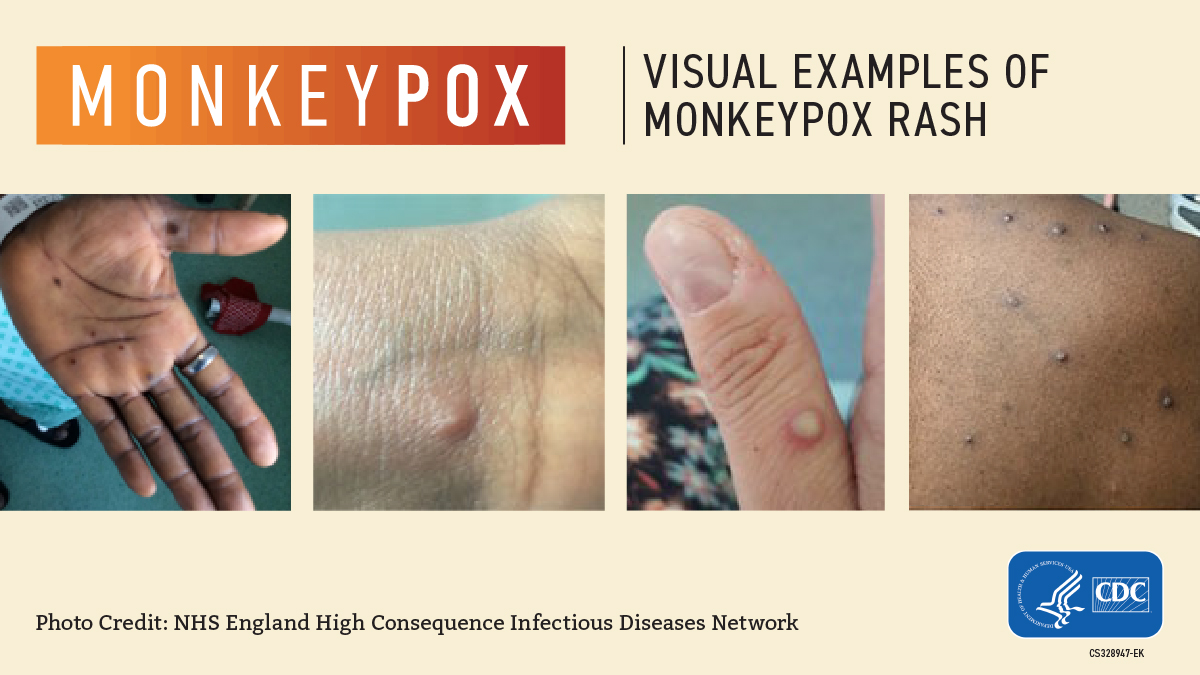 What is monkeypox?
Monkeypox is a rare viral infection that can cause a rash that looks like bumps, blisters or ulcers. Some people have flu-like illness before the rash develops. Please review a full list of signs and symptoms on the CDC website. 
How it Spreads
Monkeypox spreads in a few ways. 
Monkeypox can spread to anyone through close, personal, often skin-to-skin contact, including:

 

Direct contact with monkeypox rash, scabs, or body fluids from a person with monkeypox.

 

Touching objects, fabrics (clothing, bedding, or towels), and surfaces that have been used by someone with monkeypox.

 

Contact with respiratory secretions.

 

This direct contact can happen during intimate contact, including:

 

Oral, anal, and vaginal sex or touching the genitals (penis, testicles, labia, and vagina) or anus (rectum) of a person with monkeypox.

 

Hugging, massage, and kissing.

 

Prolonged face-to-face contact.

 

Touching fabrics and objects during sex that were used by a person with monkeypox and that have not been disinfected, such as bedding, towels, fetish gear, and sex toys.

 

A pregnant person can spread the virus to their fetus through the placenta.

 

It's also possible for people to get monkeypox from infected animals, either by being scratched or bitten by the animal or by preparing or eating meat or using products from an infected animal.

 
A person with monkeypox can spread it to others from the time symptoms start until the rash has fully healed and a fresh layer of skin has formed. The illness typically lasts 2-4 weeks.